Nordic ski racing returned to Grand County this winter with great success, smiling reunions of past fierce competitors, lots of story-telling, often exciting finishes, people laughing and crying all at the same time! After each race, new friends promised another reunion in a week or two wondering who would come out on top at the next competition. Little kids, who it seemed just recently learned to walk, were almost running on skis, giggling raucously as they chased each other for 1-2-or even 3k. Some at age 6 or 7 were already masters of kick and glide or skating, with their little legs going faster than anyone could imagine. It's been a great season, with great snow, well-run events, and many renewed friendships.
Throughout the season, the distances got longer, the workouts got more intense. People trained harder and got stronger. And now it's time for the great finale. The Annual Snow Mountain Stampede at Snow Mountain Ranch is this Saturday and Sunday offering a choice of a 12.5K, 25K or a 50K race Freestyle (commonly known as skate) on Saturday and Classic style on Sunday. There is even a 3K for kids 12 and under that is a part of the Grand Nordic series. Or kids can join in for a chance at a roving Teddy Bear trophy each day for a 3K free fun race. If you haven't registered, today (Friday) is the last day to register online at Active.com as there is no day of registration. Bib pickup is at the SMR Nordic Center Friday from 4-6p and Saturday and Sunday morning from 7-830am. Racing starts at 9am both days with Start, lap and Finish close to the Nordic Center so come on out to cheer on your favorites!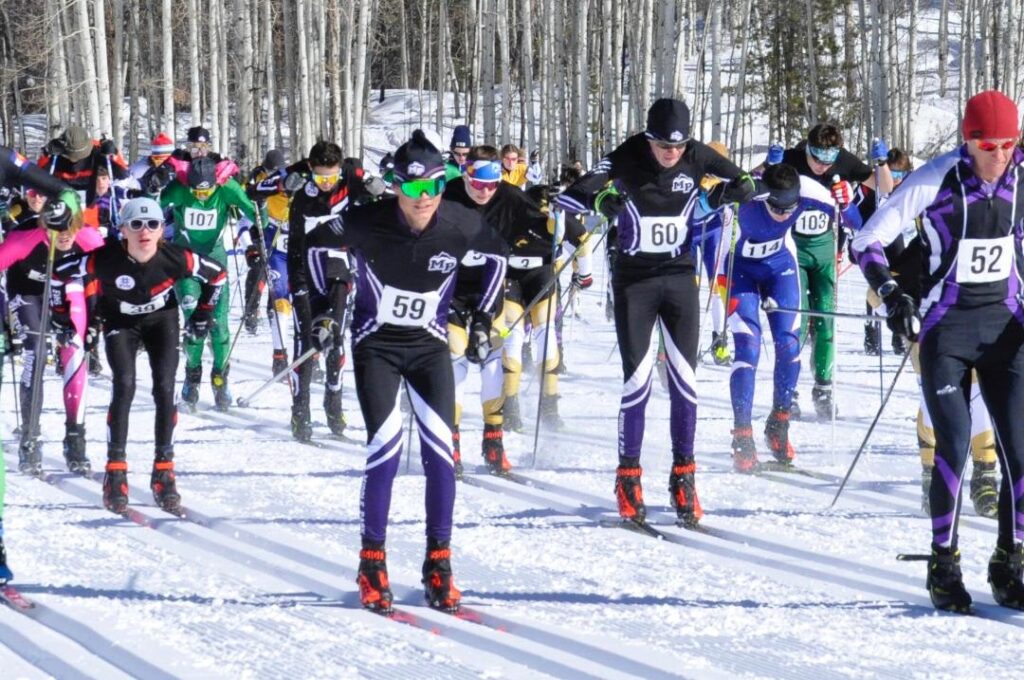 The Annual Stampede started in 1983-84 season when the Nordic Center first opened and is the highest marathon in the Country. It has operated every year except 2020 when the Ranch closed for Covid19. Several years ago, the race became a two-day event and was the only opportunity in the country to do back-to-back marathons. Where else can you ski a 50K skate one day and a 50k Classic race the next day? Be the Ranch Boss and earn a 100K buckle for skiing the 50K each day or a Ranch Hand 50K buckle for skiing the 25K each day. Now that is impressive! Such endurance…
The two Stampede events are also the last two races of the Grand Nordic Race Series and series awards will be presented after Sunday's Overall awards for Classic races at 130p at the Nordic Center. The best four finishes for a series competitor in the 6-race series count toward their Series standing. Juniors 18 and under could enter most series races for only $10 – a great incentive to the younger crowd. The series is a cooperative effort by Grand Nordic, Colorado Nordic Masters, Winter Park Competition Center, Snow Mountain Ranch, Devils Thumb Ranch and Grand Lake Nordic Center to return Nordic racing to Grand County and it has been great this first year! Next year will be even better…
NORDIC COURTESY
All forms of skiing, snowshoeing and other back country usage have common courtesies that are considered "rules" by some people. For example, cutting in lift lines or cutting in front of people skiing downhill is dangerous and is never courteous. Awareness of your surroundings and the level of accomplishment of the people around you is important in any kind of outdoor activity. More accomplished skiers need to show more patience.
Nordic skiing has many options. People are spread out on trails. When tracks exist on trails, learn the rules of the track. When coming fast down a track and encountering uphill skiers, it is not always easy to avoid them. Most of the time it is easier for the uphill skier to step out of the track and let the downhill skier pass. But this is not a hard and fast rule as the downhill skier may be very accomplished and can easily step out of the track while the uphill skier is struggling. The important issue is for experienced skiers to allow a struggling skier space and vice versa. Don't be two or three across the trail blocking all those who want to pass. That is a recipe for trouble no matter what your experience. Hopefully this spring break, courtesy and patience can carry over into the Nordic Center or parking lot where people of all levels and ages are concentrated and often dogs are thrown into the mix.
Just being outdoors enjoying the sun and snow can be fun! Just keep trying and, with a few simple tips from an instructor, you can easily learn to succeed. Patience while you try is paramount. Rewards (yes that often means candy or other food!) work wonders because you are consuming energy and need to replace it but put food wrappers in your pocket and not on the trail. Water to rehydrate is another important issue as well as clothing adjustments for heat and cold. Move over to let other skiers pass. Look for animal tracks and other gems of nature that present themselves and learn what to do when wild animals are present. Help each other. All good courtesies for life.