By David Maddox
Spring is the time of corn snow slogging, crust cruising and everything in between. This can be all in the same day. In fact, oftentimes it is in the same day. And for the in-between – you better carry a couple of waxes because that nice coat of spring "powder" can get sticky. This is not the stuff we call champagne, especially if you have twenty pounds of it sticking to the bottoms of your skis. Very importantly, all these changes can make for a wide variety of conditions and hazards.
After a good spring freeze the mountain meadows and flats turn into great big rinks of go-anywhere crust and an opportunity to ski where you can go only in spring. By afternoon it may revert to a swamp of bottomless corn and you need hip boots to venture in. Timing is important but generally after 1:00 p.m. on a sunny day – stay away. The trails can be tricky as well, in and out of the shade. You need to be ready for rapid changes in your speed. Nose dives are no fun. Shaded snow is fast, sun drenched snow sucks – no pun intended. Nor is it any fun to come zooming around a corner and find a big bare spot in the trail—another potential nose dive. But when the sun is out and the sky is blue the trail conditions are an afterthought. Put on the sunscreen and have some spring fun.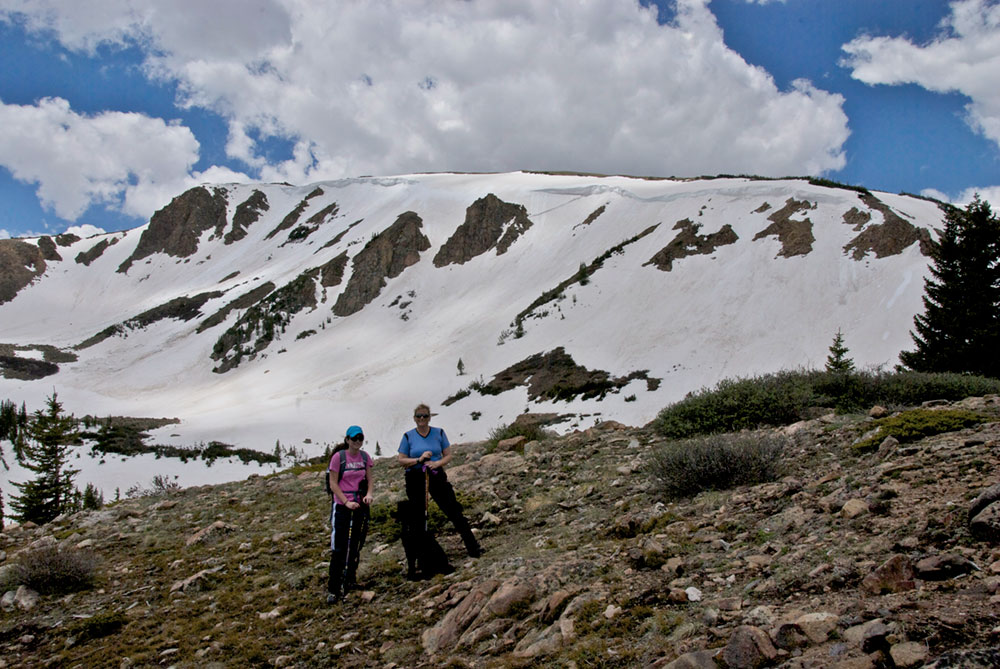 With spring, the days are longer and the snow is struggling to hang on. Not just from melting but from heading for the valley below. The single most important aspect of spring skiing in the backcountry is avalanche!
In the winter, snow piles up and given the terrain a skier can kick one off just by disturbing the snow pack. Or an avalanche can just happen. In spring, it is the same only worse, the snow is heavier, in transition, and less predictable. Based on current wisdom, 30 degree and steeper slopes are the ones to avoid until the snowpack stabilizes.
But avalanches are a lot like potholes on route 40 – they can surprise you. Pothole slalom can be fun but dodging avalanches is not. Those big cornices hanging high on the ridge can break loose at any time and sweep the whole hillside far into the valley below, especially in spring when the melt is starting. A seemingly stable snowpack can have a weak layer and you can be the trigger that turns it loose. Do a little digging, check for weak layers, and avoid risky snowpack. And if you are on a "safe" 20 degree slope with a 40 degree slope or cornice hanging above you—then you are not safe. Once again, you can be the trigger. Bottom line – steep/flat, doesn't matter, potholes are everywhere, you are at the wheel – drive carefully and plan your trip.
Planning in spring is much the same as winter. Plan your route and know the terrain. Tell a friend where you're headed and when you plan to return. If there's any avalanche danger carry a beacon, a shovel and a probe pole and take a friend or two. The weather can turn from spring to winter in a hurry. Be prepared for both.
Right now the trails are in good shape. We've had a good snow year. HTA is busy keeping the popular trails groomed where they can. All those trails you loved in winter are still there and it is common to have the trail to yourself. Conditions vary but fun is out there. You gotta love spring in Grand County! 

David Maddox is Vice President of Grand Huts Association