The 39th Snow Mountain Ranch Stampede lived up to its name! It was a real test of endurance to complete both the Skate Race one day and the Classic Race the next day! The incoming snowstorm was heavy Friday evening, at times almost a whiteout. But Shawn the Groomer and crew were in peak form and the course was as good as you could get with several inches of new snow and still coming down for the Saturday Skate races. Underneath was a harder surface for skate skis to bite into and the soft upper layer was soon scraped around. It made the marshals on corners of trails like Heckman and Youngs work hard to keep ruts from forming but the 12.5 k course stayed in beautiful shape with lots of ups and downs to challenge even the best. Racers could choose between the most challenging 50K – 4 loops of the 12.5K course, the shorter course of 25K – 2 loops, or 12.50k- 1 loop in mostly 10-year age groups. The Juniors competed on the 3K course with age groups 7-and-under to 13 or could enter the longer races to age 18.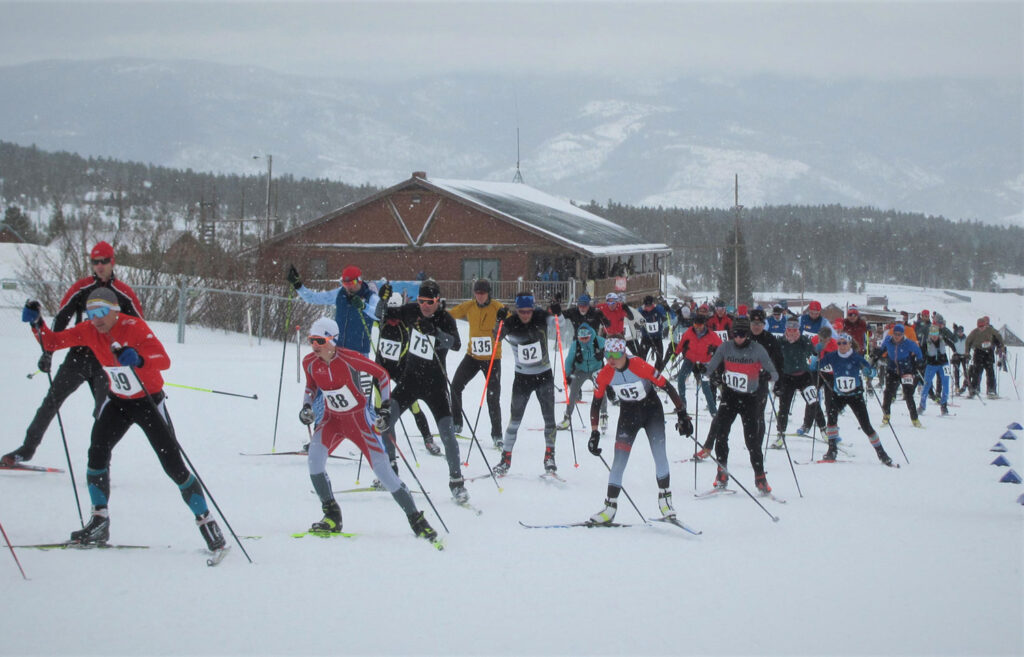 SATURDAY FREESTYLE
The fresh snow slowed the Freestyle times down but Dan Weinbeger finished out in front of the 50K field with a finish time of 2hr 45:01 minutes just ahead of the near photo-finish between Jonah Steinberg and Alex Maurer finishing at 2:47:36 followed by Patrick Caldwell. The women were led by Karolina Kaleta who also finished 11th overall at 3:10:30, followed by Jill Sorensen at 3:24:09 and Maria Wik. The youngest finisher was Gray Barker from MPHS, age 17, in mid-field – that's jumping into the big league with style!
For the 25K Freestyle, it was a race to the finish with Emil Book Bratbak finishing at 1:26:30 edging out Jamie Mothersbaugh at 1:26:35 and Yoni Doron-Peters not far behind. The women were even more thrilling with Christina Weber finishing at 1:46:48 barely ahead of Sierra Jech at 1:46:49 and Amy Shertzer not far behind with a pack of three on her heels. A third of the way back was Mackenzie Weber, the youngest 25K finisher, age 17.
The 12.5K was dominated by youth – almost half the field was 16 or under! Sam Gurarie, age 16, posted 45:05.7 with Peter Valentiyik and Cooper Willsey on his tail. Kajsa Wik, age 12, was lead woman at 52:29.85 ahead of twins Maia McGinnes-Smith and Sophia Mcginnes-Smith with the youngest Rolan Gilfanov, age 8, barely into the 2nd half of the pack.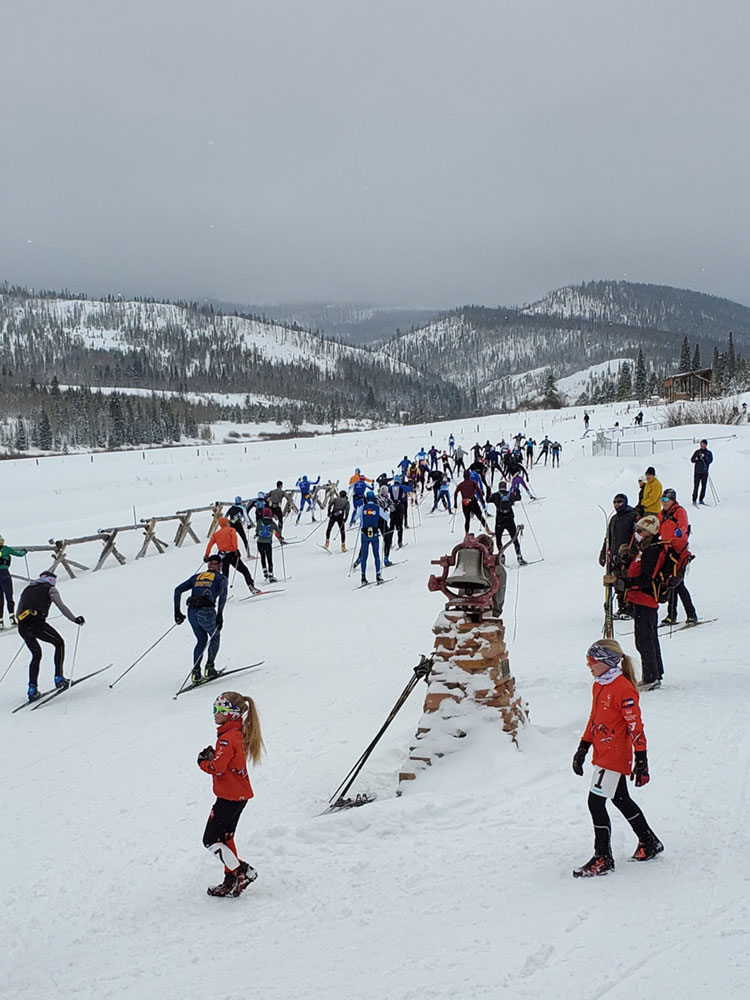 Levi Gurarie took home the Panda bear leading the kids 3K Skate race in 15:07.59 with Henry Patten and first woman Cara Szuck close behind.
CLASSIC SUNDAY
Sunday dawned overcast and colder – perfect for Classic! Tracks set overnight were firm over the 12.5K loop and most people loved the course – plenty of hills and curves to challenge even the best skiers that rolled together seamlessly. The fields were smaller but times were similar.
The 50K was led all the way by Jonah Steinberg, finishing at 2 hr 45.59 minutes, as he valiantly fought off Ryan Sederquist who finished at 2:47.11. Eric Meyer and Dan Weinberger diced it out with Meyer reaching deep to finish ahead at 2:55.32 and Weinberger, who had won the 50K Skate the day before, 2 minutes behind. First woman was again Karolina Kaleta who finished at 3:16.20, well ahead Maria Wik and Xan Courville. All three had also skied the 50K Skate on Saturday. Youngest finisher was Gray Barker, age 17, who bested his skate time by almost 10 minutes.
Micah Steinberg (yes, another Steinberg!) led the 25K finishing in 1:23.34 with Jamie Mothersbaugh and Odd Bervendsen duking it out for second and third crossing the line 30 seconds apart. Close behind was the battle of the women with Erin Quinn-Hurst Hood victorious (1:40.59), Killi Lehmkuhi on her heels and Sierra Jech not far behind. Ages ranged amazingly from 15 to 78.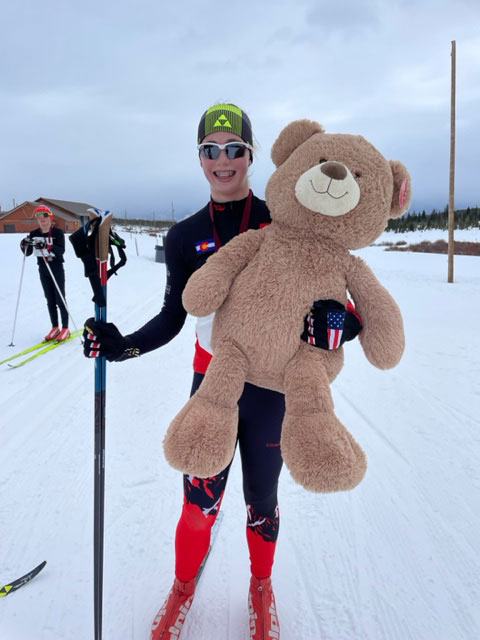 Brothers Samuel and Levi Gurarie led the 12.5K with Samuel finishing in 46.58 edging out Levi by 12 seconds and Marat Gifanov finishing third. Then came the gals with Maia McGinnis Smith leading way in 54.25 and in a quick 15sec blur sister Sophia, Luca Archie and Kajsa Wik streaked across the line. Youngest 12.5K competitor was again Rolan Gilfanov, age 8.
Elna Krisstensson took home the big Teddy Bear for the Kid's 3K Classic in 15.03 min followed in a tight pack by Griffin Hood, Jacob Schopp, and Archie Saylor.
RANCH BOSS AND RANCH HAND
Completing both 50K races and 25K races in one weekend is a feat of endurance found nowhere else in the country, especially at this altitude! Three women and 13 men earned the coveted Ranch Boss title completing two 50Ks back-to-back while Nine women and 12 men earned the Ranch Hand title completing two 25Ks back-to back. Now that is amazing! Congratulations to all…
GRAND NORDIC RACE SERIES
The first-year series was sponsored by Grand Nordic, CO Nordic Masters, and WP Competition Center with the best finishes in four out of six races counting toward series standing. Gift cards from Boulder Nordic Sport and Greg and Colleen Finnoff were awarded to top finishers overall Male and Female in the Long Race series (Dan Weinberger and Maria Wik), Short Race series (Odd Bervendsen and Amy Shertzer) and 3K Juniors (Jacob Schopp and Tayen Rydholm).
Click here for the complete Stampede and Race series results >>